Ancestors of Osborn Keith WHEELER
[What happens when a family member HACKS your web page?
CLICK this photo for alternative Norwegian heritage view!]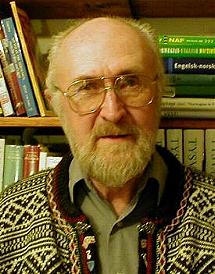 As a genealogist, I am just an amateur. However, I have been aided by many others who had knowledge and documentation of my family's varied lines. My most notable lines are two back to 7 individuals who were passengers of the Mayflower1 (ALLERTON, HOWLAND & TILLEY). Related to these Pilgrims is my CUSHMAN line that runs from the prominent Pilgrim Deacon Robert CUSHMAN down to my maternal grandmother. Many other early New England families are included in this database.
The "Sloopers,2" or passengers on the sloop Restoration (often called the "Norwegian Mayflower"), were the first of a large wave of Norwegian immigration to the America. Four aboard that ship, by the names of MADLAND & SLOGVIG (ANDERSON), and their ancestors in Norway back to the 16th century, are included. Surname or farm name lists for my Slooper great great grandparents, Jacob3 and Serine4, are provided below to aid others looking for a possible family connection. Most of these ancestors came from what is now called Rogaland fylke (county) in southwestern Norway.
A recent discovery has possibly extended this Norwegian line back much farther, maybe even to some early nobility and Vikings. My 10th great grandmother, Torbjørg Halvarsdtr RANDA5 in Fister, Hjelmeland, Rogaland, was the daughter of the wealthy and prominent Gudrun Sæbjørnsdtr Nord-Talgje and this line has been traced back by some researchers about 30 more generations. While going back so far is controversial and many professional genealogists point out the unreliability of information on such ancient individuals, I find this intriguing and it makes for a personal and renewed interest in northern European history. Details of this line may be added later to this site.
Others of note from my ancestral lines are Col. George CLAGHORN who was the builder of the USS Constitution ("Old Ironsides"); David MORGAN who worked with George Washington and became known as the "Indian fighter of the Monongahela Valley;" and William BIRCH who ran for Governor of Ohio but died before the elections (William was married to Hannah DURNAL from an interesting line that I am just beginning to learn more about).
Early settlers to the Sacramento Valley region of northern California6 are included. Relatively little is known on my namesake WHEELER7 line and any information about my WHEELER ancestors would be greatly appreciated. Also much information is given on my paternal grandmother's OSBORN line thanks mostly to data furnished by my cousin Delbert Osborn.

---
Table of Contents

Ancestors of Osborn Keith WHEELER


Surname List


Index of Names


Sources (Bibliography)

4 Generation Pedigree Chart

RELATED FAMILY INFORMATION:

RECOMMENDED LINKS:
Colusi County Historical Society - Colusi County, in the Sacramento Valley, was one of California's first counties & encompassed what is now Colusa & Glenn counties and part of Tehama Co.

Rogalandslag - a bygdelag of the descendents of emigrants from Rogaland in southwest Norway.

Fram Lodge No. 13, Sons of Norway, Eureka, CA - Yes, we are members.

NORWAY LIST Web Site a large helpful online community sharing things Norwegian (genealogy, language, culture, etc.).

View artistic representations of 2 historic sailing ships who brought ancestors to the U.S. below (both images used with permission):
---
Who to Contact for More Information
Email Keith at:
Snail mail to:
O. Keith Wheeler
2634 Summer St.
Eureka, CA 95501
(707) 268-8444
---
Created 26 Oct 2001 with Family Origins 8.0 [Updated version using RootsMagic hopefully coming soon.]

.

To WheelerFolk.org home page